Free Subscription To the Freshest Health News And Tips
Hide this
15 Good-to-know Habits To Fight The Common Cold This Winter
As winter approaches it's all too easy to slip into unhealthy habits and surrender to the dreaded cold or flu that will inevitably be circulating. But this time of the year doesn't have to automatically mean illness! Follow these 15 habits (or as many of them as you can, or want to!) and give your body the best defences this season!
1. Get your vitamins.
Sure, oranges are tasty, but did you know they're also full of vitamin C? This vitamin helps boost your immune system which in turn prevents you from catching a cold when the temperature drops. Vitamins A and D are also important and can be found in abundance in dairy products such as milk, yogurt, cheese and kefir. They help to balance the good bacteria in your body, keeping respiratory problems at bay.
2. Let the sunshine in!
During the cold, dark months of winter our skin tends to see a lot less sunlight than it should, and that's not a good thing for our immune system. Our bodies absorb the natural vitamin D in sunlight and use it to prevent infections. As little as 15 minutes will do just fine, so as soon as you see those rays appearing, get out there and enjoy!
3. Wash your hands.
Personal hygiene is important during cold season as the viruses responsible for colds and flu can be easily picked up on your hands while on public transport or after going to the bathroom. Wash them thoroughly and especially before and after eating in order to kill any harmful bacteria which could make you sick.
4. Put your running shoes on.
Yes, it's colder and darker during winter, and we would all rather be curled up in front of the T.V. all warm and cozy. But if you could just muster the energy to go for a brisk walk or jog every day, you'd be doing your immune system a ton of favours. Daily exercise is proven to boost your immunity by keeping your body healthy – let's get that blood pumping!
5. Stay hydrated.
It's easy to forget to drink enough water, especially when it's cold. However, a dehydrated body is one open to infections, especially the common cold, as your nose, mouth and throat will dry out. Get into a good hydration routine by drinking water at regular, timed intervals throughout the day and remember, fluids can come from your food too!
6. Give yourself a rest.
Our modern lives can take their toll on our bodies, and our immune systems in particular. Getting the right amount (or more) of sleep everyday will give your body the rest and relaxation it needs to repair damaged cells and keep them healthy enough to resist viruses.
7. Herbs are your friends…
Natural remedies may not be a popular choice when it comes to preventing the onset of a cold, but they sure are as effective. Herbs and spices such as garlic, turmeric, liquorice root, and Echinacea are all super potent antioxidants which will give your body a much better prevention system should any sneaky bacteria or viruses try to creep in.
8. …and so are the bees…
Much like the natural substances above, raw or manuka honey also has a ton of health benefits. Its antimicrobial and antioxidant properties are effective in banishing the common cold and soothing sore throats. Honey is also very tasty when mixed with herbal tea, so what's not to love?
9. …and don't forget the flowers!
Aromatherapy and the use of essential oils are becoming ever more popular, and for good reason! These miracle oils have a ton of health benefits, particularly when it comes to preventing a cold. Take lavender for instance, it's not only a dreamy scent, but it's also antiviral and amazingly effective at fighting the flu and other respiratory issues. The great thing is these oils are also incredibly easy to work into your daily routine by using a diffuser or a humidifier to spread their wonderful smells and benefits around your home.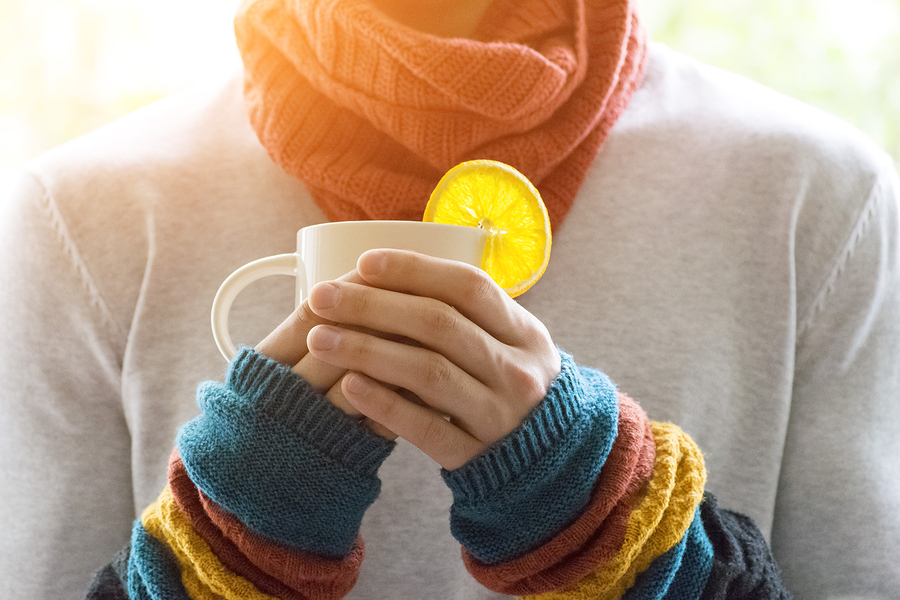 10. Stay away from the sick people.
We've all been there. It's the middle of winter and everyone in the office is coughing, spluttering, and sneezing. You're stuck in the middle desperately trying to not get sick, but how can you manage to do that? Well, it's simple. Keep your distance as much as possible from infected colleagues or friends (2 feet should do it) until they're feeling better and definitely don't share any cups with them to prevent the spread of infection!
11. Practise yoga and meditation.
As we said before, high levels of stress can lower your immune system and leave your body wide open to catching a cold. But fear not…here is the solution: Studies have shown that practicing daily yoga and meditation actually boosts the immune system and reduces blood pressure, along with a whole host of other benefits. Bring on the zen!
12. Take a hot shower or bath.
A nice hot shower is not only the perfect way to relax at the end of the day, but it can also help you during cold season! How? Well, studies show that the steam from the hot water not only loosens up congestion in the chest but also that it can be toxic to viruses. Result!
13. Cut down on the booze.
Remember what we said about sleep deprivation? Well it's proven that alcohol consumption decreases sleep quality, meaning that when you drink you're not getting as much dream-time as you should be…and that means a lowered immune system. What's more is that booze makes you feel warmer than you actually are, making you take the layers off and allowing your body to get cold…brrr!
14. Massage your way to health.
Regular massages don't only feel amazing, they also come with a whole range of health benefits. The manipulation of the skin and muscles, especially in the head and chest area, increases blood flow and de-stresses the body, boosting the immune system by nourishing your cells.
15. And finally, don't reach for the pills!
It can be easy to reach for over-the-counter drugs as winter draws in and signs of the sniffles start to appear. But by doing this you are actually helping the viruses! Why? Because over time they can actually become immune to the drugs, meaning if you do get ill they may not be as effective, or not effective at all…!
So, there you have it. Nothing too complicated, right? By getting into good habits you'll not only stave off a cold in the winter, but you'll keep your body in tip-top condition and able to fight off infection all year round!
//